Join Our Pickleball Camp
and Improve Your Game
Suncoast Pickleball offers pickleball camps, clinics and private lessons to those players interested in learning pro-level strategies and techniques. Once you learn the fundamental strokes you'll be given challenging skills and drills used by the professionals to improve your game. Also included are ways to work with your partner, advanced team strategies and the mental aspects of the game along with team movement and footwork. You'll learn the phases of the game: Phase I- Serve and Return, Phase II- Third shot drop and earning your way to the net, Phase III- Dink & Set up Strategies from the NVZ, and Phase IV- Put-a-ways and Attacks. All this while being with like-ability players and learning from the best Pickleball Pro's in the business!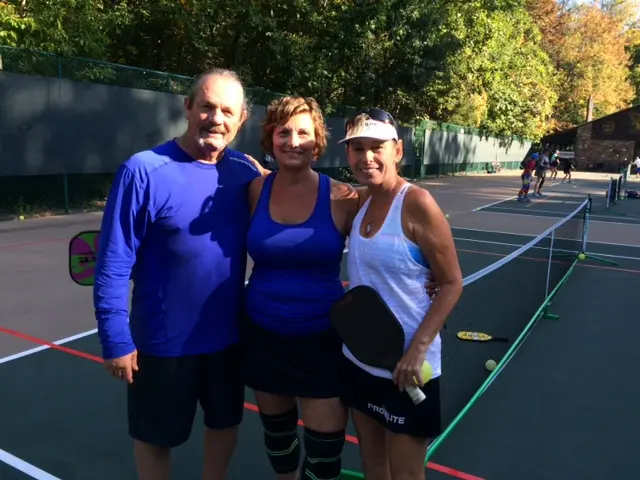 What you need to know about our Boot Camp
Lodging for Five (5) Nights
All Meals Including Breakfast, Lunch, and Dinner (Except Thursday as We Will Be Out to Town and Dinner Will Be on Your Own)
Daily Strategies and Drills From Professionals
A Half Day of Video Analysis as Well as Group and Individual Instruction With the Pros
All PayPal Fees
Note: One-Hour Private Lessons are Available for Additional Cost
Social Events
Social activities will be planned each evening.
Additional Private Lessons
Professionals are available on most mornings. Click here for Pro Pricing and their email to book a lesson
Pricing is for Camps 1, 2, 4, and 5. Click Here to get Camp 3 pricing.
$799 Instruction Only (Includes Shirt and Daily Lunch)
$899 Off-Campus Rate for the Entire Week (Includes Meals and Socials)
$1,099 Per Person for the Entire Week (Based on Double Occupancy)
$1,399 Single Room Rate for Entire Week
$1,699 Couples With One Non-Participant (Includes Room and Meals for Both)
$2,198 Couples (Both Participants)
Notes:
*A $500 deposit is required at the time of registration.
**off-campus programs are limited to the first 8 players who sign up!

PAY CAMP DEPOSITS HERE
Maximum Number of Participants
Limited to 64 players for each camp.
Ratings Verification Clinic
It is mandatory that you arrive on or before 2:00 pm on the Sunday before your camp so that your rating is verified.  If you are not at the Rating Verification Clinic, then you may be placed in a lower ability group.
Room Assignments
Rooms with king and queen-sized beds are reserved for couples. Each
individual will be provided private rooms with twin beds. If all king and queen-sized beds are taken, some couples may have twin beds.
Camp Video Scheduling and Consent
A big part of this camp will be recorded on video. After the camp, you can view your clip using a special code we will be providing. If you don't want to get filmed, please let us know in the comments section of the registration form, and you will simply be removed from the video schedule.
Waivers
All participants must agree to the Waivers on the Disclaimer page.  Agreeing to these Waivers is done when you start your Registration form.
Registration Dates
• January 5, 2023  - Camp #1 (May 14-19) & #2 (May 21-26)
• March  1, 2023  - Camp #4 (Sept 10-15) & 5 (Sept 17-22)
• March 8, 2023 - Camp #3 - Advance Camp (Sept 1-6)
Train Like a Champ With Us
Take the chance of a lifetime to join a spirited pickleball program! To get started, sign up for our next boot camp today.