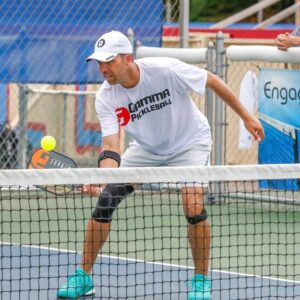 DJ HOWARD
Daniel J Howard is a nationally recognized pickleball player and top-rated coach. After discovering pickleball, he fell in love and devoted himself to playing and learning as much as he could about the sport. Daniel won gold in his first tournament 2015, at 5.0, and since then has played many 5.0 and pro level events, winning a gold in men's 5.0 at the US Open in 2016. He has won over 50 medals at the 5.0 level and is currently ranked atop the standings at 5.0 35+. His pedigree as a teacher is extensive. He earned a degree in exercise science and has nearly 30 years of teaching and coaching experience. Daniel travels the country leading camps, clinics, and lessons. His goal is to help you learn and improve – all while having lots of fun!
Daniel is also General Manager for Major League Pickleball's DC Pickleball Team. He coaches, organizes, and strategizes to position the team for its greatest success.
His experience as a Pickleball Professional and advanced knowledge of pickleball blend with his passion for people, equipping him to offer something above and beyond what you might expect from a traditional sports coach: a genuine, down-to-earth mentor who understands how to take you from good to great.
When he isn't leading camps or managing the DC Team, DJ competes in professional pickleball tournaments. He and his wife, Christine, are the proud parents of five children: four boys and one girl. DJ and his family live in Okemos, Michigan.