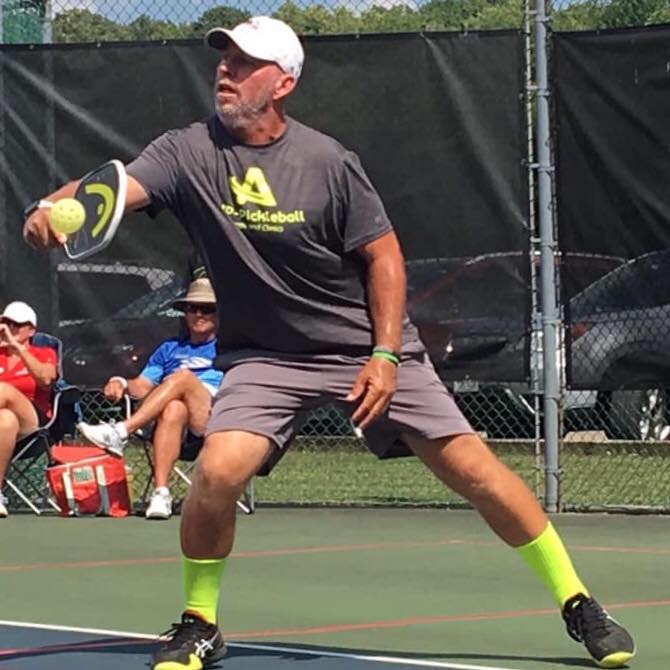 JOHN SPERLING
John Sperling is a professional pickleball player and instructor with over 30 years of teaching experience. John has achieved success with well know companies such as Grand Oaks Resort, PPR (Professional Pickleball Registry), Country Club of Ocala, and Bollettieri Tennis Academy, to name a few.
John grew up in the Detroit Metro area and attended Trenton High School in Trenton, MI. It is here where he started playing tennis and began his junior tennis career. John quickly became one of the best young players in the area and reached a top rating in the state of Michigan by the time he was 17. After high school John attended College of DuPage and played tennis for Chaparrals. He reached a collegiate ranking of #7 and led his tennis team to a Top 5 Finish at Nationals.
While attending college in Chicago, John started his teaching career at Evergreen Bath and Tennis Club in Evergreen Park. Over the years, John was blessed to learn from some of the best professionals in the industry, which helped him develop into the instructor that he is today. After 30 years on the tennis court, John left the tennis world to bring his experience and expertise to pickleball. He has a style of teaching that appeals to all levels of play, from the beginning player all the way to top professionals. His passion on the court is unmatched and this transfers through to his students.
John has played professionally for the past two years and has won many local, state, and regional tournaments. He has had success at the national level by capturing a Gold/Champion medal at the 2017 US Open and followed it up with two more medals at the 2018 Open. He was also a two-time medalist at the 2018 AAU National Indoor Championships. John likes to spend his down time working with underprivileged kids by teaching them pickleball and other sports.