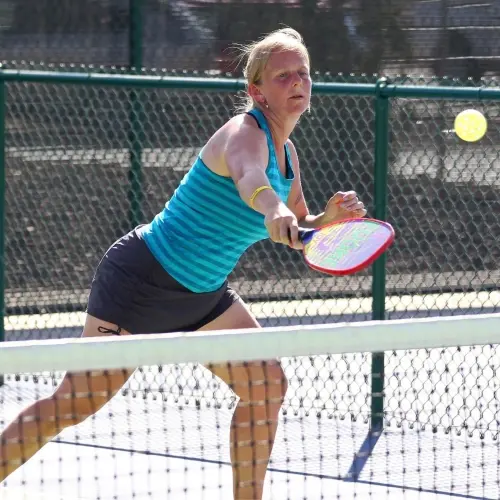 JOY LEISING
Joy Leising is a professional pickleball coach and player passionate about helping others improve their game. With over eight years of competitive play under her belt, Joy has established herself as one of the top players in the sport. In addition, she is a PPR-certified instructor committed to helping players of all skill levels achieve their goals.
Joy's athletic career began in college, where she played tennis and coached the sport for several years. In 2013, she discovered pickleball and quickly fell in love with the game. Since then, she has been competing at the highest level and has achieved many notable accomplishments. Most recently, Joy won 2 gold medals in Women's and Mixed Doubles 35 + 5.0 at the USAPA Nationals in December 2021 held in Indian Wells.
As a coach, Joy helps her students develop their skills and reach their full potential. She enjoys teaching private lessons, small groups, and larger clinics for players of all levels. Whether you're a beginner or an intermediate player, Joy is committed to helping you advance your game and build a solid foundation in pickleball.
On the court, Joy strongly advocates social justice and equality in sports. She is always looking for ways to make pickleball accessible to everyone. She is committed to using her platform to promote positive change. Joy is a Team Head sponsored player and ambassador for the brand both on and off the court.