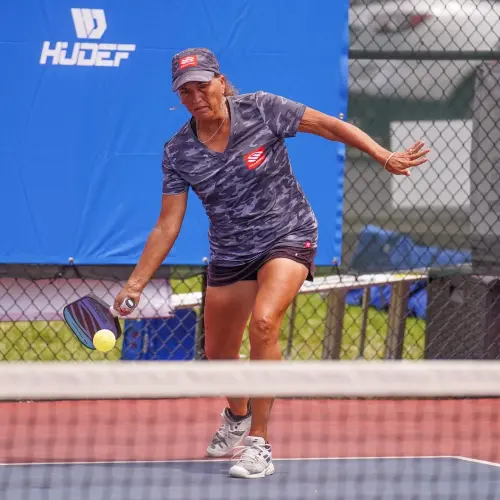 LINDA THOMPSON
Linda hails from Columbus, Ohio, and now lives part-time in Estero, Florida. She played D1 tennis at The Ohio State University and started playing pickleball six years ago. While playing tennis at Ohio State, Linda earned a varsity letter in each of her four years of play.
She has been teaching pickleball for 5 years, traveling all over the country teaching camps, and doing clinics. For five (5) years, Linda has taught clinics for LevelUp in addition to doing solo clinics and lessons in Ohio, Florida, Michigan, Indiana, Illinois, Kentucky, North Carolina, South Carolina, Tennessee, Texas, New Mexico, Arizona, California, West Virginia, Colorado, Idaho, Pennsylvania, New Jersey, and New York.
In 2022, Linda reached #3 in the Senior Pro rankings and has been in the top 10 since the pro tour started. She is rated 5.5 in mixed doubles and 5.0 in women's doubles.
In 2016, she won the US Open gold in 4.0, which was the first year she played pickleball.  The following year, in 2017, she won silver in the 4.5 division, and in 2018 Linda won gold in 5.0.  After starting the Senior Pro, Linda won bronze in that.  In 2022, she finished 5th in the women's split age pro event and 6th in the mixed split age pro event.
Linda has won multiple US Open gold medals and numerous gold and other medals on the senior pro tour.  She is a Selkirk Pro Team-sponsored player since 2018 and loves promoting the sport of pickleball through both teaching and playing.
MAJOR TOURNAMENT ACCOMPLISHMENTS:
Chicago - 2 gold, 1 bronze
Cincinnati - 2 gold
Atlanta PPA - 2 gold, 1 silver, 1 bronze
Atlanta APP - silver, bronze
Beer City - 2 gold, 2 silver, 1 bronze
Latitude 42 - 1 gold, 1 bronze, 1 4th
NJ - silver
Texas - Gold, bronze
Punta Gorda - 2 silver, 1 bronze
Plantation - Gold
Indianapolis - 2 bronze