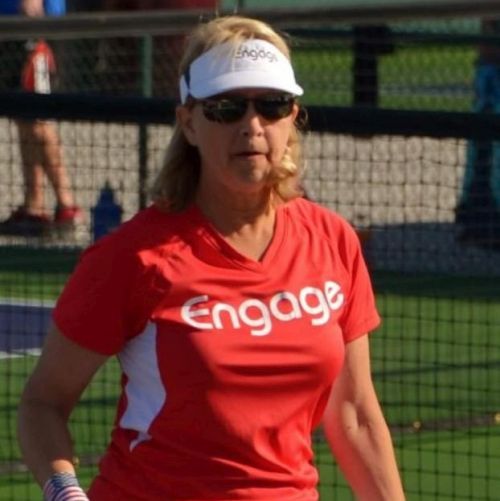 RACHEAL KROOG
Pickleball Coach, Rachael Kroog, wants to take your game to the next level.
Rachael holds a double certification by the IPTPA(International Pickleball Teaching Professional Association) and the PPR(Professional Pickleball Registry). She is sponsored by Engage Pickleball.
- Have fun
- Reduce your anxiety by calming your mind
- Increase your consistency, power, and control through:
- Peace, patience, placement, and lots of perfect practice
Rachael has accumulated over 100 medals in her 10 years of competition. She's competed at the 5.0 level in tournaments across the country winning golds in state tournaments in MN, WI, AZ, and TX, and gold medals at The National Pickleball Championships, The National Senior Games, The US Open, and in The World Huntsman Games.
Rachael was named Outstanding Female Athlete of her High School winning the sectional championships in basketball, softball, tennis, and volleyball. She held a NY State ranking of #2 in women's doubles which led to a 4 yr athletic scholarship to The Univ. of Ky. She was inducted into her High School Athletic Wall of Fame for achieving what no other athlete has garnered, 16 varsity letters in 4 different sports.
"My dad, my athletic hero, and MN State Champion baseball pitcher, Fred Kroog, taught me how to play this addicting game and he and I had many fun years of playing together."
In my desire to give back and honor my dad, a percentage of the dollars made from my PB coaching goes towards offering free musical programs for our elders living in senior living communities in the Twin Cities.