NOTE: You must complete an application before you make payment.  Refunds on payments received without an application
are subject to the Cancellation / Refund Policy in the Disclaimer.
The Mandatory $500 Deposit must be paid using PayPal or Credit Card.
To use your credit card instead of PayPal, after selecting "Buy Now" on the linked page, select the
grey "Check Out" button to Pay without a PayPal account.
After that hit Then enter your credit card information.
 SEE EXAMPLE IMAGE BELOW: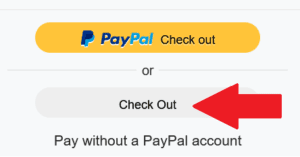 PayPal will ask for your email.  If you have an existing PayPal associated with the
email you enter, PayPal will want you to use their system.  To bypass this, add some
characters to your email so that PayPal does not recognize your email. After
you get to the credit card page, enter your correct email so that your
payment receipt will be emailed to you.
SEE EXAMPLE BELOW: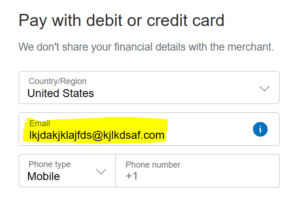 Checks are not accepted for the Mandatory Camp Deposit.
NOTE:

Refunds for overpayments are subject to a $50 admin fee and a 4.5% PayPal refund fee.
Please ensure you are paying the correct amount, and DO NOT OVERPAY.
TO PAY YOUR BALANCE:
USE THE DROP-DOWN LIST TO SELECT YOUR CAMP TYPE AND THEN CLICK BUY NOW
TO PAY YOUR BALANCE:
1. USE THE DROP-DOWN LIST BELOW
2. SELECT YOUR CAMP TYPE
3. CLICK BUY NOW
4. BE SURE YOUR PAYMENT AMOUNT IS THE SAME AS THE AMOUNT DUE ON YOUR STATEMENT (OVERPAYMENTS ARE SUBJECT TO A 4.5% REFUND FEE)
To Pay only your balances by check, make checks payable to Suncoast Pickleball and mail to:
Suncoast Pickleball
506 Azalea Ave
Black Mountain, NC 28711
NOTE: Checks are not accepted for the Mandatory Camp Deposit.  You must use PayPal or a credit card to pay the deposit.
There is a $50 processing fee on all returned checks.