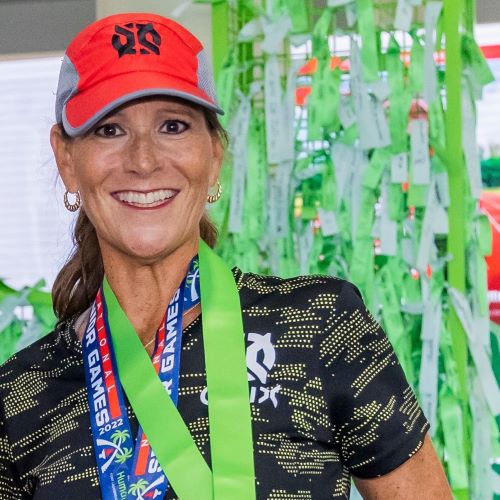 ERICA GONZALES
Erica is a native of Puerto Rico and has been involved in athletics from a young age. She was a competitive swimmer and tennis player in Puerto Rico. When her family moved to CT at age 11, she continued swimming & playing tennis and then added softball, basketball, and field hockey to her sports resume.
At Ohio Northern University (DIII), she played at the #1 singles position all 4 years and competed in USTA team tennis in her 30s. Erica had never heard of Pickleball until moving to Kissimmee, Florida, in 2012 and fell in love with it! She put her tennis racket down after 40 years and dove head first into pickleball mania.
Erica has earned 100 Medals since playing tournaments in 2015, including Gold at the National Senior Games, The US Open, The Huntsman  Senior Games, and the USA Pickleball Championships.
She's a PPR-certified pickleball instructor, plays at the Sr. Pro Level, and enjoys helping students of all levels and abilities improve their game.
MAJOR TOURNAMENT ACCOMPLISHMENTS:
USA Pickleball Championships: 2020
Gold: Singles (55+, 4.0/4.5)
National Senior Games: 2017, 2019 & 2022
Gold: Singles (2019, 2022), Women's Doubles (2017, 2022)
Mixed Doubles (2017)
Silver: Women's Doubles (2019)
Bronze: Mixed Doubles (2019 & 2022)
Huntsman World Senior Games (4.5/5.0): 2019
Gold: Singles
Silver: Women's Doubles
Silver: Mixed Doubles
Florida State Senior Games: 2015-2021
Gold: (6x) Women's Doubles (2015-2021)
Gold: (3x) Singles (2017-2019)
Gold: (2x) Mixed Doubles (2018 & 2019)
Silver: Singles (2021)
Silver: (4x) Mixed Doubles (2015-2017, 2021)
Bronze: Mixed Doubles (2020)
US Open: 2018
Gold: Women's Doubles (4.5, 50+)